Heavy Duty Trolley 500kg 1000kg And 2000kg
adminABS
Heavy Duty Trolley
The heavy-duty trolley is one of the best trolleys for your home, office, or commercial places. The heavy-duty trolley will save your time and money. Trolleys can be used to carry heavy-weight items from one place to another with ease and comfort.
No assembly required
Suits all the purposes of moving heavyweight stuff. 50% more material than a standard trolley make it strong enough to handle full loads. Heavy-duty comes with a ball bearing system which will help you in transporting heavy items through tight corners and stairs without any concern about movement or breaking up the load or skipping steps even if you have numerous weights on them by holding knobs at ends that are less likely to let go.
The pad holder is strong. It can hold thousands of pounds
Strong enough to support heavy loads when it comes in the way of walls, door frames, and corners.
The Heavy-duty trolley comes in different colors that range from white, blue, and black to pink. Most models come with wheels that run on a number of types such as castors and swivel casters thereby enabling you to carry heavy loads as if using an ordinary umbrella or table shoulder bag without giving any trouble.
Heavy load capacity
Heavy load capacity trolleys are most commonly used for transporting heavy loads. These kinds of trolleys can carry loads with a weight of more than 100 kg to 2000kg and also provide excellent stability to complete load transfer regardless of the height/height variation on the ground surface.
Heavy Duty Trolley 500kg
Heavy duty trolley 500kg is a must-have in your business. The heavy duty trolley 500kg helps you to carry large and bulky items. These heavy duty trolleys help you transport all kinds of items like wood, metal, or even water for washing purposes, etc. Heavy Duty Trolleys are available in different sizes as per your requirement
Easy to Clean
These heavy duty trolleys have strong wheels that make it very easy for you to clean them properly. You can make the cleansing easier by taking the help of the cylinder with the compressor for removing some more dirt from the trolley, which is not normally cleaned by carrying in water.
Leaves no Room for Compact
Trolleys with strong wheels leave no room for compact, not even a single bit. These trolleys are perfect in terms of space-saving and carrying more items. If you want one more helpful feature then this is also your best option because this heavy duty trolley is made up such that it can carry maximum weight without making any difference between two different sizes altogether.
Heavy Duty Trolley 1000kg
Heavy duty trolley 1000kg is a must-have for every household. You can use it to carry heavy loads from one place to another or store things in your house safely. It has wheels and a telescopic handle, so you can move the heavy load easily.
Easy To Store
They have a simple design that makes it easy to store in storage space either inside or outside the house. This may come up with lots of products so outdoor you can use some racks and hooks for better organization. So, find one according to your requirements and buy them easily at nearby stores as they are bargaining items too!
Heavy Duty Trolley 2000kg
2 Tonne lifting trolley is one of the best heavy-duty lifting trolleys that has been designed to help you handle all types of lifting requirements. The wheelbase and frame are both made from steel, which makes them sturdy and reliable. This 2-tonne lifting trolley can carry up to 100kgs, which helps you do any kind of work with ease.
Folding trolley
A folding trolley is a hand trolley, a wheeled device that can be pulled easily. It consists of two or more individual parts attached to each other by folding hinges which allows the folding and unfolding of the trolley like an accordion. This kind of trolley is used for carrying equipment and materials at construction sites, and warehouses.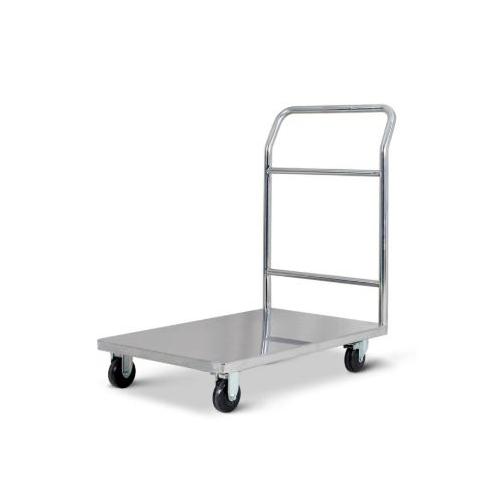 Durable Construction
The heavy-duty trolley is durable construction with durable and strong wheels. It has a high load capacity, which makes it suitable for transporting heavy loads. This can be used in any warehouse or store where goods are being moved from one place to another, on the market, and also when transporting goods like furniture in the house.
Our high-quality trucks have high-quality materials and good performance which makes them a cost-effective option.
Heavy-duty material handling trolleys are perfect for getting jobs done fast. They are fully portable and can be set up quickly, usually in minutes. You can roll them around with ease while working or setting up your material handling tool collection and choosing the right moving truck available that suits your needs and allows flexibility in how to work on your project floor space (flooring). Shop our heavy-duty material handling trucks today!
Heavy-duty trolleys we have a platform and high-quality heavy-duty turntable trucks available to be your ideal transporting vehicle, suitable for a variety of tasks. there are a number of reasons why you should choose a high-quality heavy-duty trolley from absrackbd. it is obvious that we're serious about offering only the best service!